With a forest cover of about 7.5%, this is an indication that we need to escalate our forests restoration efforts as a nation. The ongoing national reforestation programs should be aimed at strengthening Kenya's contribution to the Paris agreement. Our Nationally Determined Contribution (NDC), as aligned to the National Climate Change Action Plan aims at cutting down emissions by 30% by 2030. In relation to this, tree growing is just one of the many programs that we can engage in to help absorb carbon dioxide.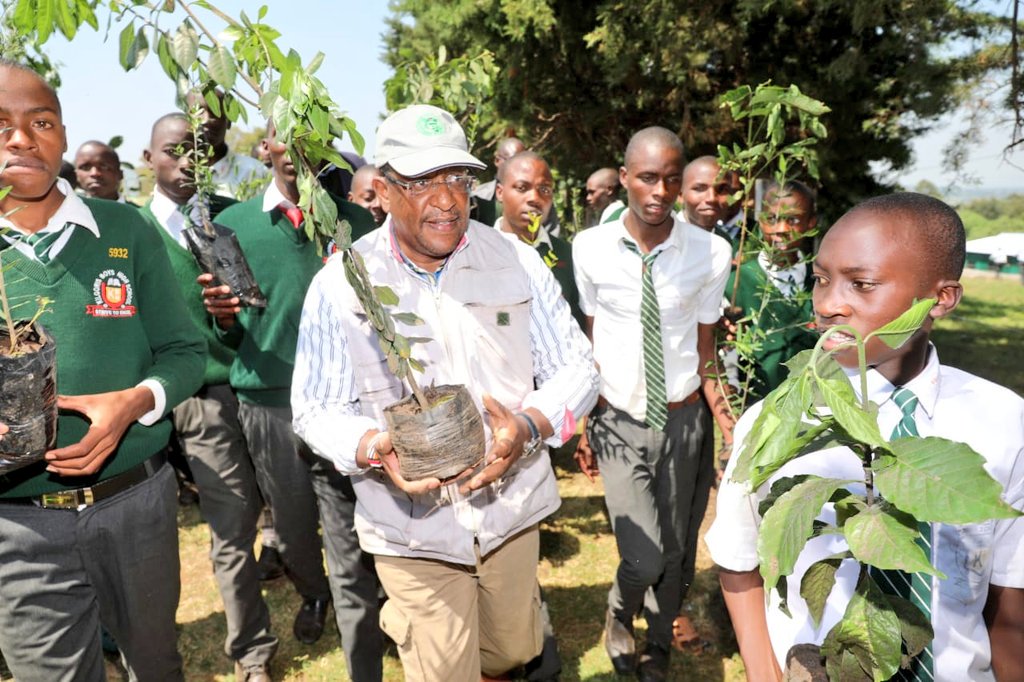 Speaking at Shankoe Secondary School, in Trasmara Sub-county, Narok County, Ministry of Environment and Forestry Cabinet Secretary; Keriako Tobiko cautioned leaders against politicizing the Mau forest evictions saying that the government will not allow politicians to gain political mileage by allocating forest land to their cronies and defending them against evictions. This comes at a time when debates and disputes around the ongoing destruction of the Mau forest complex and the need to restore its sanity by conserving it are raging.
The CS has today been in a series of activities under the greening school's initiative including Riokindo Boys High School, Shankoe secondary school where over 300 indigenous trees have been planted and Kilgoris Boys where 600 tree seedlings have been planted. The initiative aims at helping the nation attain the recommended 10% forest cover by encouraging students to plant, nurture and adopt trees.
"Forests cannot be used to gain political mileage, the second phase of Mau evictions will be undertaken soon, it has been a hot potato and we shall not be intimidated," said Tobiko. The CS also mentioned that the files of all those who grabbed and sold land in the Maasai Mau have been finalized and forwarded to the Director of Public Prosecution awaiting prosecution. "People get into natural forests and our water towers, fell trees, burn charcoal and encroach on them causing massive destruction to these vital resources and when they are touched it becomes a political question" The CS stated.
Environmental matters have often been politicized thus undermining and interfering with conservation efforts such as the restoration of the Mau forest complex. More often, during the election's periods, our forests have been turned into rallying points for politicians seeking votes which should not be the case. Forests; the lungs of the earth, are vital resources under threat and should not be used for any self or malicious interests. "it is sad that we only think about our stomachs, bank accounts and our children and not about our environment and the future generations" the CS said. He likened the water towers to the lungs and the rivers that flows through it as the blood stream and warned of dire consequences if these organs are played with.
Environmental conservation calls for both individual and collective efforts if we have to make Kenya green again. Remember, to achieve our 10% forest cover target, we need to plant and nurture 500 million tree seedlings to maturity for the remaining 4 years according to the Ministry of Environment.